Skillman.eu is an international network that operates in the sector of advanced manufacturing, focusing on vocational and educational training. Launched in 2014, the platform is now well-established at an international level and spreads across 93 countries, including 630+ members as of today. Funded by the Erasmus+ program, it's currently the main EU multilateral network thanks to its ability to combine a strong knowledge of skills and training practices with a systemic and sector-specific information system.
This year Skillman hosted the SIF (Skillman International Forum) 2021, marking its 7th edition. The event was held in Bologna and Lisbon from November 15-18 in partnership with  IVETA, AER, ENNI, EAPRIL, ETF, ECCTIS, Colombo Plan Staff College,  ITCILO and IDEB, with a substantial online participation of 686 viewers and 100+ onsite attendees. The event received a crucial contribution of partners, sponsors and keynote speakers, all driven by the aim of working together to improve education and TVET (Technical and Vocational Education and Training), and tackling topics such as digital and green revolution, microcredentials and "sharing is caring".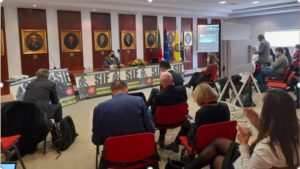 The plenary sessions welcomed Skillman members from all over Europe, with numerous participants connecting on Zoom from all over the world to give meaningful insights on TVET topics. What most evidently came out of these roundtables was the need for a "jump" in the ways of teaching: there's a demand for critical skills and creative solutions, therefore the standardized way of teaching, with its technical and cognitive skills, is no longer enough.
During the Forum's discussions, speakers also touched the topic of gender: it was underlined how statistically female students are less likely to graduate with VET degrees; breaking gender differences that result from gender stereotypes is crucial, and that can be achieved by following Canada's example, in encouraging apprenticeships and career guidance for skilled trades and technological sectors. Moreover, adults in VETs are usually older than students in general upper secondary education, so it's necessary to make VETs accessible to adult learners by making the program very flexible in order to support life-long learning. Giovanni Crisonà underlined this aspect, linking it to the topic of the day, sharing is caring.
The Forum also included various workshops. For example, the Romanian team from EduBiz organized presentations and activities centered around the theme of emotional intelligence and non-technical skills to look for in the job market. They highlighted the need to educate young people in developing their social and communicating skills, and presented some examples from their organization, like volunteering at senior centers or orphanages, to learn how to communicate with people from all kinds of backgrounds.
SIF also saw the participation of Italian Nkey srl and Fondazione Toscana Sostenibile (FTS), two members of the Skillman Network and Erasmus+ projects developers active in the field of adult and young education.
Giovanni Golfarini and Camilla Meschi organized and held a workshop on virtual reality and live streamed the Forum's conferences and roundtables with a 360° camera.
Nkey has been using virtual reality since 2018, with Eramsus+ project VIRAL (Virtual Reality for Local Communities) by developing new educational supports for social integration in small communities, involving 360° videos and virtual reality as a playful element in the learning path of adults for inclusion of minorities. From this experience, in 2020 FTS created a project, called 2VIP (Video & Virtual Reality for Successful Youth's Participation in Democratic Life), aimed at introducing VR videos in non-formal education to involve European youth in democratic life. Both projects, and more that are still work in progress, aim to develop new ICTs for non-formal education to involve adults in educational paths of European and national interest. (For more information, you can visit https://viral.nkey.it and https://2vip.ftsnet.it)
The VR workshop which took place on November 17th sparked curiosity especially amongst the youngest attendees of the forum, and it included about 15 people. The activity started with a brief, non-frontal, interactive presentation on VR and the how-to's of making a VR video; everyone was encouraged to ask questions, which flowed organically as the presentation went on. All the participants, especially the young volunteers from Romanian association EduBiz, and students from Bozen's art school Wob (Waldorf Mittel & Obersurfe) expressed great interest in the possibilities inherent in the tool of virtual reality.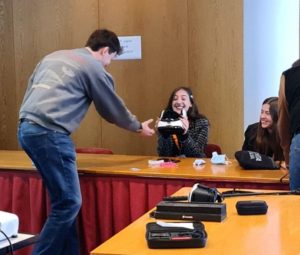 Then it was time to actively check out the VR visors, first hand: everyone was thrilled and thoroughly enjoyed the experience; they found it cool and exciting, almost hard to believe. Some of the participants noted what a great tool VR could be for its ability to keep your attention and make everything 'real', specifically for the learning of subjects that kids often find 'boring' and distant, like history. Some of the attendees already had some knowledge of virtual reality, having tried it at festivals or exhibitions or even having a VR camera at home, and everyone agreed on the opportunities VR would offer if implemented in the education system and training sector, since it "awakens all kinds of feelings and sensations".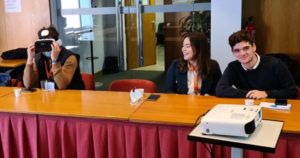 Finally, it was time for the most active part of the workshop, where everyone had a chance to try VR: the participants formed 2 groups and had fun playing around with the VR camera by following a script which was prepared beforehand by the two tutors, who assisted them in the shooting of the videos. The attendees who didn't have any previous knowledge of virtual reality experimented with this new device, while the ones who were more familiar with it and had used it as a recreational tool agreed on how many opportunities this immersive medium could offer. The kids from EduBiz made some significant remarks and observations, noting how in the area of formal education VR can offer a fully new perspective, and could be a great help for disadvantaged students. Other attendees gave meaningful insight, suggesting the use of VR in the area of mental health, to express certain fears and phobias. Overall, this youth-led workshop was a great success, with many attendees vocally expressing their appreciation for the proactive component of the activity and how fun and interesting it was, from start to finish. To view the finished results of this VR workshop along with the videos from previous ones, you can click on this Video Gallery.
At the end of the Forum, the organizers of the SIF proposed to propose a VR workshop that will take place in Tuscany in the Spring of 2022. The participants will have the opportunity to play with virtual reality as a team in a fun, engaging way and to grow professionally. We think virtual reality could be an excellent medium for TVETs and for the educational and professional training sector, and next year's workshop looks like the best opportunity to explore VR's potential. It will be not only an opportunity to learn and to grow professionally and individually but also to exchange knowledge and experience with people from all over Europe.
The workshop is scheduled to be held in March 2022 with a duration of 1 week, most likely in the beautiful Tuscan countryside, where you'll get the chance of a full immersion in Tuscany's rich culture and traditions. For those who already met Giovanni and Camilla, you will see us again during this Spring workshop along with the rest of our staff.
If you're interested in this 2022 workshop, please don't wait and sign up as soon as possible given the approaching deadline. To apply and for more information on the workshop, please contact the coordinator of the event.
A special thanks goes to Giovanni Crisonà, Valentina and all of the Skillman team and members of the Network for this wonderful experience. We hope to see you all soon!
[download4posts]